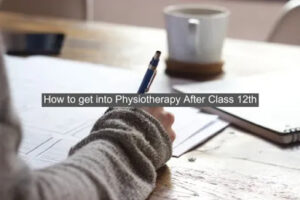 Have you ever experienced back pain ? or leg pain ? It can happen due to some kind of injury, accident or just bad posture of the body. This small pain can turn into serious problems in the future and a Physiotherapist can help you to get out of this situation. 
Physiotherapy is the process which helps to treat deformity in the body due to some kind of aliment or accident. It helps you to recover with the help of different things, like heat treatment, exercise and massage. The professional who performs this is known as a Physiotherapist and in this article, we will be telling you to become one. 
To become a Physiotherapist, a degree such as Bachelor of Physiotherapy (BPT) is required after completing class 12th with Physics, Chemistry and Biology as the subjects. Students can also pursue a master course after that to improve their career opportunities. 
What is Physiotherapy ? 
Physiotherapy is a branch of science that helps in curing people with movements and any kind of physical disabilities. Physiotherapy relies on physical and non-surgical methods to cure people recovering from any injury, accident or any kind of health condition. It uses different kind of things such as heat treatment, exercise and massage to help patient recovery. 
How to be Physiotherapist? 
Physiotherapy is considered one of the most promising fields in the future because of the everyday routine work of people in this modern world. Body pain is common nowadays even in teens and in younger children due to bad body posture and lifestyle. 
Lifestyle is one of the reasons why everyone will need a Physiotherapist in future. So let's find out all the courses available for you to become Physiotherapist in India: 
What are the courses available for Physiotherapy ? 
Various courses are available, both at undergraduate and master level for physiotherapy. Here is the list of courses available after class 12th for Physiotherapy: 
| Name of the course | Duration |
| --- | --- |
| 1. BPT – Bachelor of Physiotherapy | 4 Years |
| 2. BSc in Physiotherapy | 3 Years |
| 3. BOT – Bachelor of Occupational Therapy | 3-5 Years |
| 4. Diploma in Physiotherapy | 2-3 Years |
BPT and BSc in Physiotherapy are the famous courses for physiotherapy and most students pursuing a career in the field opt for these courses. 
List of entrance exams for physiotherapy in India:
There are various entrance exams conducted by different universities to get admission into physiotherapy courses. 
Here is the list of all the entrance exams for physiotherapy in India. 
| Name of the Entrance Exam | College / University |
| --- | --- |
| IPU CET | All IP-affiliated colleges offering BPT & MPT |
| BCECE | BPT Colleges Accepting State-Level Entrance Test Scores |
| IEMJEE | BPT Courses Offered by University of Engineering and Management affiliated colleges |
| LPUNEST | BPT and MPT Courses at LPU's Constituent Institutions |
| NILD CET | National Institute of Locomotor Disabilities |
| CPNET | Uttar Pradesh University of Medical Science |
| Dr. Dy Patil All India Postgraduate Physiotherapy Entrance Test | MPT Courses at Dr DY Patil Colleges |
| SRMJEEH | SRM Medical College Hospital and Research Centre. |
| MET | Manipal University |
| DSAT | Dayananda Sagar University, Bangalore |
What is the eligibility for Physiotherapy course ? 
There is certain eligibility which is needed to be fulfilled based on whichever Physiotherapy course you want to apply for. These eligibility can vary based on different universities or colleges but over the vast majority of universities and colleges, it's going to be the same. 
Eligibility for Undergraduate Diploma Physiotherapy course:
Eligibility and admission process may differ depending upon the university you are looking for but in most cases, the eligibility for Diploma in Physiotherapy is class 12th completed with science stream but because it's an diploma course, there are some universities which do offer direct admission after class 10th based on the marks. 
Eligibility for Undergraduate Bachelor course:
Minimum eligibility for physiotherapy bachelor courses such as BPT or Bachelor of Physiotherapy is class 12th with 50% in Physics, Chemistry and Biology as the subjects. 
Top colleges in India for Physiotherapy:
If you want to pursue physiotherapy in India, there are many colleges and universities which you can look out for. Checkout this list of top colleges in India for Physiotherapy: 
Apollo Physiotherapy college
Pt Deen Dayal Upadhyaya Institue of Physically Handicaped 
Indian Institues of Health Education and Research 
Nizram's Institute of Medical Science
JSS college of Physiotherapy
SDM college of Physiotherapy 
MAhatma Gandhi University of Medical Education
SV Nirtar Cuttack, Odisha
NILD (National Institues of Locomoter Disabilities) 
NIEPMD (National Institute for Empowerment of Persons with Multiple Disabilities) 
Jamia Millia Islamia 
GNDU (Guru Nanak Dev University)
AIPMT (All India Institue of Physical Medicine and Rahabilitation)
CMC (Christian Medical College) 
Admission process for Physiotherapy in India:
If you want to take admission into any of the physiotherapy courses like BPT, the admission process is either merit based or entrance exam based. It varies for different universities. 
Merit based admission means, you will be allotted seat in the college based on your marks in class 12th whereas if university is taking admission based on entrance exam, this means admission will be done based on the marks you scored in the following entrance exam which is either taken by university itself or some other higher authorities. 
I have mentioned all the physiotherapy entrance exams you can appear for after class 12th above in the article. 
P.s: For admission for Bachelor in Physiotherapy there is no entrance exam, for this course all the admission is done based on your class 12th marks (merit based admission). 
Frequently asked questions (FAQ):
1. What qualification do you need to become a physiotherapist in India? 
Answer: To get into Physiotherapy course in India, you will need to complete class 12th with science stream with 50% in physics, biology and chemistry as the subject. 
2. How many year does it takes to become a physiotherapist ? 
Answer: Typically, an undergraduate physiotherapy courses will require at least 3-4 years of study and after that, you will need to get some practical skills before being considered as a professional. 
3. Is NEET required for Physiotherapist ?
Answer: No, NEET is not required to get admission into Physiotherapy courses. There are separate entrance exams conducted by universities for admission. 
4. Is Physiotherapy a good career ?
Answer: Yes, physiotherapy is a very good career with lot more scope to grow in the future. 
5. How hard is it to become Physiotherapist ? 
Answer: It's a hard course if you have no interest in it but if you have passion for it, it's not at all impossible. This field will generally requires lot of volunteering and helping people with your skills and if you enjoy doing that, then it will be easy for you else not.