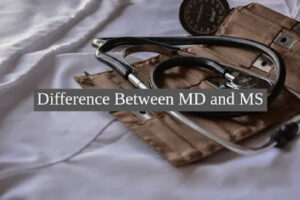 After completing class 12th, most people are in a dilemma of selecting an appropriate career for themselves, even though this is one of the hardest decision we have to take in our life. Sadly, this is not the only point where a student finds him/her stuck into this kind of "career related dilemma", specially if you are from medical field. 
Securing a seat in MBBS college is not an easy job nowadays and after successfully completing the course, MBBS students are introduced with one another obstacle of choosing whether they should go for MD or MS.
MD means Doctor of Medicine which deals with speciality in medicines in a particular branch of medical studies whereas MS stands for Master of surgery which deals with more surgical part of medical studies and choosing between the two can vary among student based on different factors. 
What Ddoes MD and MS Mean ?
Every year, over 15 lakh students apply to appear for NEET exam which is needed to get admission in a MBBS college, but the number of MBBS seats in India, recognised my National Medical Commission is just around 80,000. 
Which means, over 14 lakh students won't get admission into a MBBS course due to high competition and completing this course is an achievement in it's own. After completing MBBS, you are eligible to be called doctor but since, medical is actually a huge field and MBBS is just a bachelor's course which introduces a student to different fields of surgery and medicine. It gives you a little knowledge of multiple specialities. 
Once, you complete MBBS, you know have little knowledge of multiple specialities and now you have an option to specialise in one of them, either as a surgeon or as a physician. MD (Doctor of Medicines) and MS (Master of Surgery) are the degree courses which can help you specialise in those field. MD and MS is pursued in different specialisations and field of medicines. 
If you go for MS (Master of Surgery) you will be qualified as a surgeon and these courses, you will be trained to become qualified professional in using medical tools and equipment to treat patients whereas on the other hand, MD (Doctor of Medicine) will work as a specialist to prescribe drugs and medication to the patients without the need of being expert in using tools and equipment.        
Which is better, MD or MS ?
After completing MBBS you must be wondering; whether you should complete your master with MD or MS and which one of them is better? 
The answer to this question is simple, both the courses are better with equal opportunities in medical field. The real question is, which one of them suits you the best ? And the answer to this question can vary for individuals. 
After completing your specialisation with MS, an individual can work as the surgeon and with MD as Physician. A physician cannot work as the surgeon but a surgeon can work as physician with little more knowledge of medicines. 
In terms of career prospect, both the options are similar but as a surgeon, you can be more financially stable based on your skills. When the opportunity to take decision comes, it should be more based on individual level rather then earning scope in a field. 
Both fields are good enough and it more depends on an individual's interest and aptitude. Some people prefer going for surgery because they enjoy using the tools to save somebodies life while some people prefer to stay away from it. 
While choosing between the two, one must also consider the quality of life. As a surgeon, you may have to do hours long surgery when needed in emergency which can result in unpredictable time schedule. This can make things hard to take out some time from work for other things. 
List of MS and MD Specialisation Courses:
| MD Specialities | MS Specialities |
| --- | --- |
| MD Gynaecology or obstetrics | MS ENT |
| MD Anaesthesiologist | MS Plastic surgery |
| MD Orthopaedics | MS Urology |
| MD Neurology | MS Cardiac surgery |
| MD Gynaecology | MS Gynaecology |
| MD Cardiology | MS Cardiothoracic surgery |
| MD Paediatrics | MS Paediatric surgery |
| MD Endocrinology | MS Ophthalmology |
| MD Internal medicine | MS Obstetrics |
| MD Psychiatry | MS Orthopaedics |
| MD Dermatology | MS Cosmetic surgery |
| MD Pathology | |
| MD Radiodiagnosis | |
Best colleges for MD and MS in India:
After deciding the field your want to do your masters in, finding college is another obstacle which we have to counter and that's why, to help you out. Here is the list of some top colleges (Not in any order) to pursue MD and MS in India: 
Colleges for MD and MS in India
1. AIIMS, New Delhi
2. Christian Medical College, Vellore
3. Madras Medical College, Chennai
4. Banaras Hindu University, Varanasi
5. St John's Medical College, Bangalore
6. Stanley Medical College, Chennai
7. PGI (Post Graduation Institute of Postgraduate Medical Education and Research), Chandigarh
8. Kasturba Medical College, Mangalore
9. Sanjay Gandhi Post Graduate Institute of Medical Science, Lucknow
FAQ:
1. Is MS bigger than MD?
Ans: After completing MBBS a student can choose to do specialisation in any of the medical field. For that, student needs to select between MD and MS. MS stands for Master of surgery where you will learn about surgery and training on how to use medical tools and equipment. Whereas MD means Doctor of Medicine where you will learn about medicines and later work as a physician in that particular specialised field. Both the options are equally great and choice mostly depends on the interest of a student.
2. Can I do both MD and MS ?
Ans: Yes, you can do both the degree but there its not necessary. Both the fields are different and generally doing MD and MS both is not a good choice since you wont be getting any extra opportunity and will have to invest some more years into study. If you wish to work in both department, MS can be a good choice since an MS graduate can work as a physician with some extra knowledge of medicine but MD graduate cannot work as a surgeon.
3. Do you need MD for MS ?
Ans: No, you don't need to complete MD for MS. Both are two different field and you can choose any one of them after completing MBBS.
4. How many year is MD and MS after MBBS ? 
Ans: The postgraduate degree of MD and MS are 3 year long courses in the specialisation of your choice.