Preparing for IAS is not an easy task especially because of high competition and limited number of attempts available to each student. To get the edge over your competition, many aspirants decide to complete post graduation to help in their preparation to become IAS.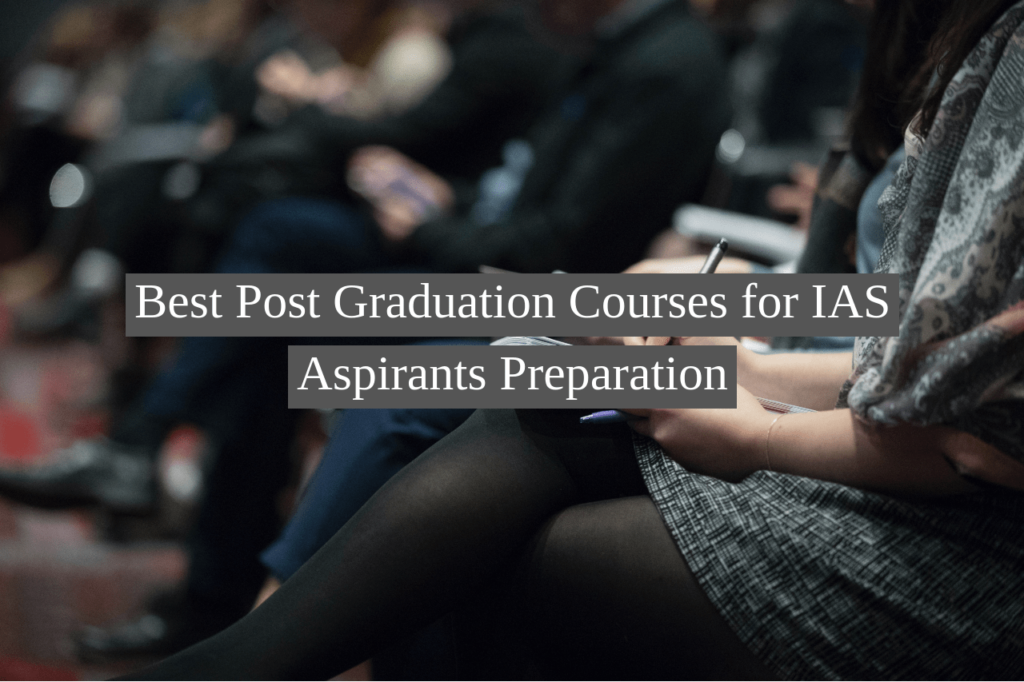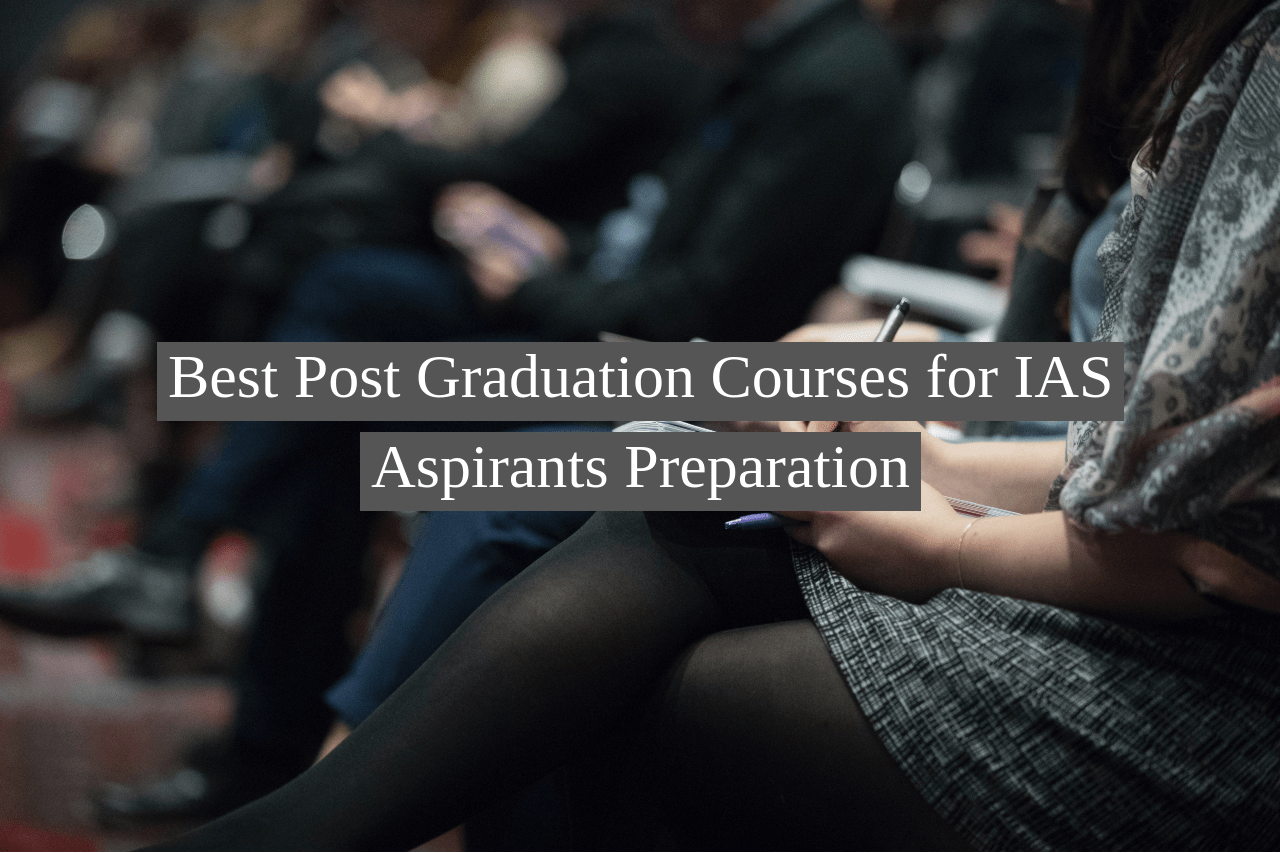 That's why in this article, we'll be taking a look at some of the best post graduation courses for an IAS aspirant to boost their preparation.
Post Graduation courses in subjects like History, Geography, Economics, Political Science and Environment can help you in the exam because general studies paper of UPSC preliminary and mains covers the topics generally from these subjects. Some other P.G courses can also depend on the optional subject you have selected.
Depending upon your IAS preparation, the number of attempts left, and your selected optional subject. The choice of your Post Graduation course can differ.
Post Graduation Course for IAS Aspirant:
First thing which I would like to clear is that Post Graduation is not at all necessary to apply for IAS. The only educational requirement is a graduation degree from a government of recognized university but applying for Post Graduation can be beneficial in certain scenarios which we have covered in another article.
1. MA/MSc Courses in the Optional Subject:
To become an IAS, a student needs to clear UPSC Preliminary and Mains examination. In the UPSC Mains exam, a student needs to select one optional subject. There will be 2 papers for the selected optional subject with 250 marks for each one of them. Out of 7 papers that are counted for final merit, 2 of them is from optional subject with 500 marks in total out of 1250 marks. That's why scoring good marks in the optional subject is really important for an IAS aspirant.
Completing your post graduation in any of these optional subjects can be beneficial for you since you will have more knowledge about the subject and concepts regarding it.
Here is the list of optional subjects you can choose to do post graduation in to help you in IAS Preparation:
Agriculture
Animal Husbandary and Veterinary Science
Anthropology
Botany
Chemistry
Civil Engineering
Commerce and Accountancy
Economics
Electrical Engineering
Geography
Geology
History
Law
Management
Mathematics
Mechanical Engineering
Medical Science
Philosophy
Physics
Political Science and International Relations
Psychology
Public Administration
Sociology
Statistics
Zoology
Literature in any of the following (Assamese, Bengali, Bodo, Dogri, Gujarati, Hindi, Kannada, Kashmiri, Konkani, Maithili, Malayalam, Manipuri, Marathi, Nepali, Odia, Punjabi, Sanskrit, Santhali, Sindhi, Tamil, Telugu, Urdu and English.)
2. M.A History:
UPSC examination has different parts, UPSC preliminary and then UPSC mains. Student who clears UPSC preliminary exam are then further eligible for UPSC mains and out of lakhs of students who appear for UPSC preliminary every year, only a few thousand of them are selected for UPSC mains.
UPSC preliminary rounds have 2 different papers and all the questions will be MCQ type only where you will need minimum qualifying marks of at least 33% in it. If you look at the syllabus of UPSC preliminary, paper 1 of UPSC preliminary has a lot of questions from History itself. So going for course such as MA History for your post graduation can be beneficial for your UPSC preliminary preparation as well. Here are the few details about the course:
Name of the course:
MA History
Duration of the course:
2 Years
Eligibility for the course:
Bachelor's Degree in History from
a government recognized university
with the minimum of 50% mark.
Admission Process:
Entrance Exam and Meri Based
M.A History Course details
3. Master Courses in Economics (MA, MSc and MBA):
Economics, Social and Sustainable development is another important part from where questions are asked for UPSC preliminary round. Having a better understanding of the economics of the country and the subject can not only help you in your UPSC preliminary preparation but also in UPSC mains preparations.
There are many different master's courses available in economics to choose from. Here are the names of few:
MA in Economics
MSc in Economics
MBA in Economics
4. Masters in Political Science:
Political Science is another great subject to study to boost up your IAS preparation. IAS has to deal with lots of country's politics and that's why as an aspirant, having knowledge of Political Science and about countries current affairs is crucial.
Studying a subject like Political Science can not only help you in the preliminary round but in mains as well as interview round too. Here are the few details about the course:
Name of the course:
Masters of Arts (M.A) in Political Science
Duration of the course:
2 Years
Eligibility for the course:
Bachelors of Arts or Humanities from
a recognized university
Admission process:
Entrance Exam or Merit Based
M.A in Political Science Course Details
5. Masters in Enviornmental Science:
There are lot of questions in the UPSC preliminary as well as Mains exam regarding Issues on Environmental Ecology, Bio-diversity and Climate Change. So studying a subject like Environmental Science where you will be studying a lot about the subject can be beneficial for your written as well interview round of UPSC.
Here are the few details about the course:
Name of the course:
MSc in Environmental Science
Duration of the course:
2 Years
Eligibility for the course:
Bachelors degree from a recognized government
University
Admission process:
Entrance Exam or Merit Based
MSc in Environmental Science Course Details
How to Prepare for UPSC While Pursuing Post Graduation:
Preparing for UPSC is already time consuming and not an easy task. That's why many aspirants don't decide to go for post-graduation so that they can focus on their UPSC preparation. Time management is essential if you are preparing for UPSC while doing your post graduation. So here are the few tips for time management for UPSC preparation during post graduation:
Doing post graduation in your selected optional subject for UPSC.
Utilize all the resources around you such as University Library, Newspaper, Magazines to help you with the preparation.
Talk to your seniors in university and teachers to get more knowledge and use their expertise to help you with your preparation.