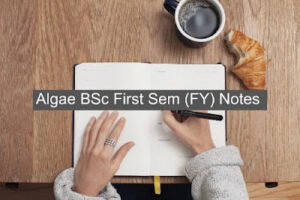 Making notes in university is tough when you feel the teachers are going quick and it feels stressful especially when everything is online. To help you with studies I have prepared notes from my lectures so it is easy for you. 
These are my personal handwritten notes. Do check them out after a brief explanation about Algae and the two types of Algae. 
What are algae ? 
Algae are primitive plants, autotrophic, eukaryotic, non-vascular thallophytes (no true roots, stems or leaves). The branch of study which deals with the study of Algae is called Algology and father of Algology is F.E Fritch. Father of Indian Algology is Prof. M.O.P. Iyenger. 
The two algae which we are going to be discussing in brief is Nostoc and Spirogyra. 
Nostoc:
Nostoc is a cyanobacteria mostly found in flooded irrigation. These found in marine water as well as fresh water. 
Nostocs are in colonies and looks like a ball. Each colony has 1000 trichromes which are of twisted structure.  They show asexual and vegetative reproduction. 
Spirogyra:
Spirogyra is a green alga. It got its name from the twisted chloroplast. It is also known as mermaid's tresses. 
Notes :
Here are my personal notes on Algae: